| Case Study | |
| --- | --- |
| Project Title: | Eastcheap Court, London |
| Client: | JLL via DMA |
| Location: | Eastcheap Court, 1, Philpot Lane, London, EC3M 8AA |
Contract Overview:
Replacement of the existing gas fired boilers and associated pumps and pipework
The works included:
Detailed validation survey and report on the existing systems including pre and post chemical and biological water quality testing.
Design of new services.
Provision of design/working drawings and technical submissions.
Disconnection and removal from site of:
The existing boilers with associated flues and primary pipework.
Existing primary and secondary heating pumps including local valves and pipework
The existing high recovery water heaters.
Heating expansion vessel.
Installation of new:
3 No new gas fired floor standing condensing boilers with a total output of 591 kW.
2 No primary heating and 2 No secondary heating pumps complete with new valves and local pipework modifications.
New stainless steel twin wall insulated flues from each boiler.
Replacement heating expansion vessel.
A new combined air and dirt separator.
New primary circuit pipework to suit the new boiler configuration c/w all necessary isolation and regulation valves, safety valves, strainers and thermal insulation.
Modifications to the secondary heating pipework
Modifications to the existing gas pipework to suit the new boiler configuration.
2 No new high recovery hot water heaters and connection to the existing LTHW primary and domestic hot water circuits.
Specialist testing and commissioning of new plant and services.
Provision of O&M manuals and record documentation.
The majority of the works had to be carried out within normal working hours except for the plant movement which had to be carried out using the passenger lifts and stairs. These works were carried out over weekends and evenings to ensure the tenants safety. The works included a number of specialist sub contractors all of whom had to be coordinated to ensure that the works ran smoothly and on time.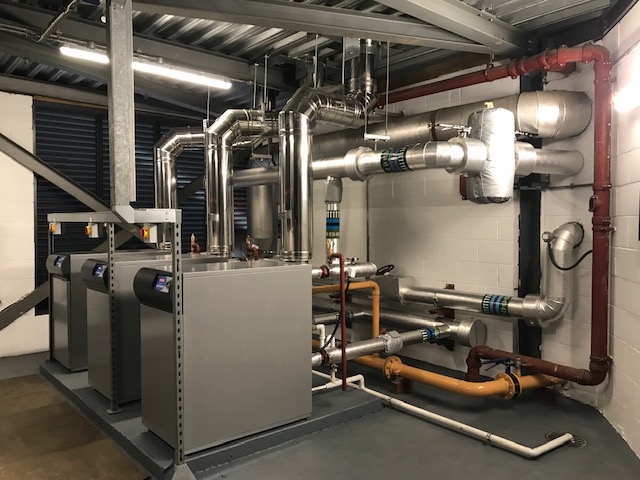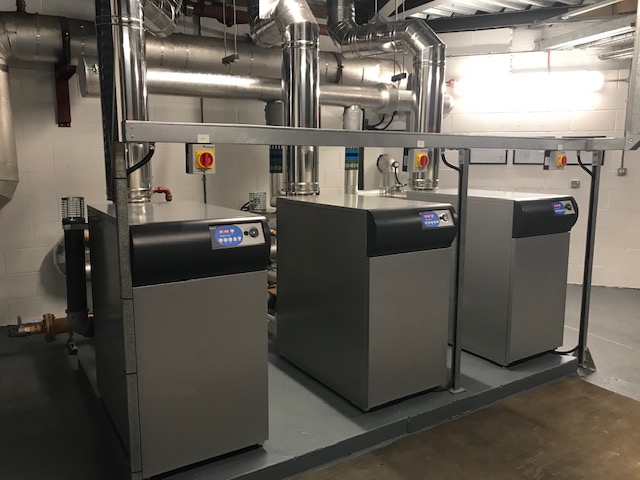 Client Feedback:
The building management team expressed their thanks that we executed the works with minimal disruption to the normal operation of the building and in particular to the tenants.
Heventa's Comments:
We would like to thank the building management and maintenance team for their co operation as it was clear from the start that this project could only be successfully executed with "teamwork".